technology
The POCO F5 could arrive earlier than expected on the global market
Thank you for reading this post, don't forget to subscribe!
POCO's series of high-end smartphones could be updated sooner than we would have imagined. The LITTLE F5 It has already obtained all the necessary certifications to be able to be put up for sale in the global market.
The POCO F5 recently obtained the green light from the EEC certification body, which is one of the last to give its approval for a smartphone to be marketed in Europe. In this entity this terminal has passed under the model number 23013PC75G.
We remind you that this terminal will be the global version of one of the Redmi K60 coming to China soon. So it is likely that the presentations of both models are very close in time.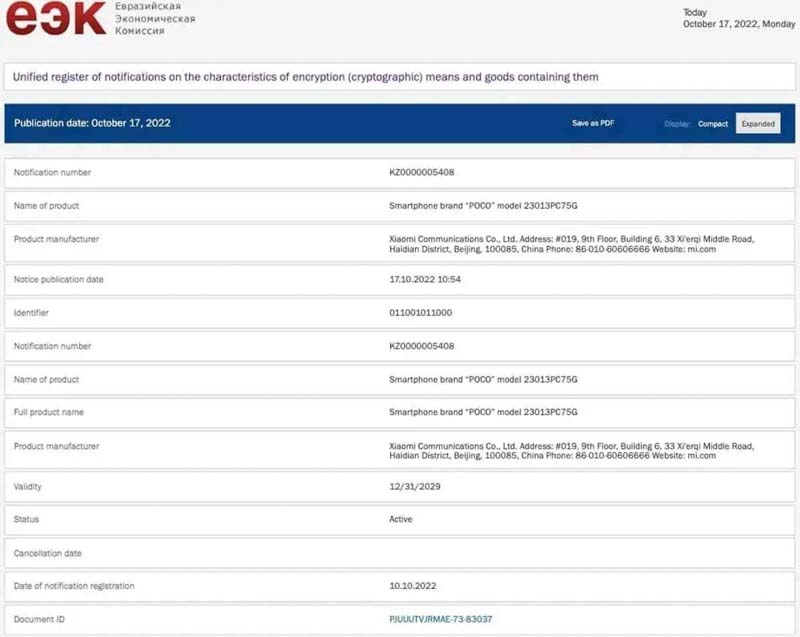 Features of the POCO F5
Rumors suggest that this model will arrive for the first time with a 2K resolution AMOLED panel (1440×3200 pixels). It will be capable of supporting a refresh rate of up to 120 Hz and a brightness of 1000 nits of brightness. A remarkable improvement for our visual experience.
Everything indicates that the POCO F5 will be powered by the current Snapdragon 8 Gen 1+. Processor that we can see in the latest high-end models such as the Xiaomi 12T Pro and that offers one of the best powers on the market.
In addition, certifications have confirmed the use of a 5,500 mAh battery with 67 W fast charging and 30 W wireless. So everything indicates that this POCO may be one of the most interesting options on the market for the coming months.
>> Stay up to date with offers and news on our Telegram channel <<


Stay up to date with all the news and offers from your favorite brand at our telegram channel. If you are thinking of acquiring a new product of the brand and you have doubts, you can consult our group on Telegram either Facebook with a continuously growing community.
And of course you can find us in the rest of RRSS: Facebook, Instagram either Twitter.
Are you a fan of photography? Share your best snapshots with us on our photography group.