business
The PAN takes advantage of Laura's campaign with a spectacular in CDMX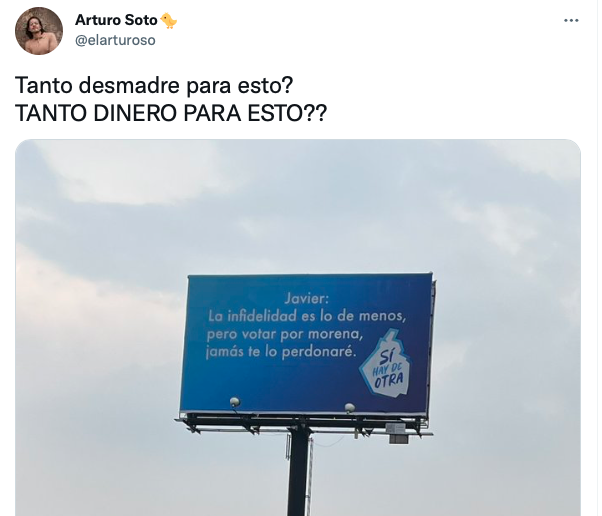 Thank you for reading this post, don't forget to subscribe!
In 2021, around 516 billion dollars were spent annually on advertising worldwide.

In 2020, outdoor advertising spend in Mexico was 5.5 percent.

It is estimated that by 2024, outdoor advertising spending in the world will exceed 4.6 billion.
Publishing and marketing is one of the industries most used by any type of sector. This is the case of an outdoor advertisement that has gone viral in the networks of the National Action Party (PAN), drawing the attention of Internet users because the political party has taken advantage of Laura's trend campaign, carried out by JCDecaux and Agencia Montalvo.
The advertising industry is still one of the most important, so many brands use these methods to promote themselves in the various forms and spaces that exist today. As an example, outdoor advertising, and billboards, which are the best known, as we see them every day in many different types of advertisements.
With information from marketing specialists, outdoor advertising is any advertisement that can be seen in public places. These places are strategic places where the audience passes day by day and that manage to have a high impact, such as highways, busy streets, buildings, illuminated signs, advertising walls, among other strategic places.
Its effectiveness can be seen reflected in the value that this mode of marketing has been registering in recent years, where data from Dentsu Aegis Network, point out that spending on outdoor advertising in Mexico was 5.5 percent of outdoor advertising investment in 2020.
According to a study by AAM, Mexican spending on advertising reached US$4.3 billion in 2018 and this figure is expected to gradually increase in the coming years to exceed US$4.6 billion in 2024.
PAN also takes advantage of Laura's campaign
What began as a viral campaign in networks and that nobody knew who was responsible, ended in the perfect strategy that many brands joined.
This is the case of the spectacular viral ones that became a trend in networks where you could see several posters dedicated to a certain "Laura", so that she would forgive an infidelity.
Given this, many brands and companies joined this strategy, such as the case of the political party PAN, which also installed several similar billboards in Mexico City.
So much chaos for this?
SO MUCH MONEY FOR THIS?? pic.twitter.com/Juqh0jU4F5

– Arturo Soto🐤 (@elarturoso) October 28, 2022
"Javier: Infidelity is the least important thing, but voting for Morena, I will never forgive you. Yes, there is another", says the poster captured by an Internet user and published on Twitter.
The publication on the platform of the little bird has gone viral, where most Internet users criticize the party for taking the idea of ​​another brand to carry out its political campaign.
"No, I don't know how to confuse you, those politicians hung on an original advertising campaign from the Montalvo agency, the one we all saw around the city," says one of the comments.
It is worth mentioning that the original creators of the "Laura" campaigns are JCDecaux and Agencia Montalvo, who created it to demonstrate the importance of outdoor advertising in a world as digital as the one we live in today.
In conclusion, the world of advertising has become very important for many industries.
Now read:
Who is Laura and why do they associate spectacular virals with Gandhi Bookstores?
"Laura Apareció" viral video in networks concludes with mysterious spectacular
Elsa and Elmar hire billboards as white boards and this they wrote to him