technology
How to put music in my Whatsapp status: quick and easy trick
Thank you for reading this post, don't forget to subscribe!
We have already told you about many WhatsApp functions that will soon reach all users, one of them is the possibility to edit messagesaccording to WABetaInfo this characteristics is already in beta testingalthough there is no specific date yet to release this feature generally.
Another of the functions that at the moment is not present in the application of messaging, is the possibility of putting music in WhatsApp states. Since on Facebook and Instagram this function is very popularWhatsApp would be expected to inherit this feature as well.
Therefore, today we are going to teach you how to put music in WhatsApp states very easily and quickly.
How to make a Storie with music to put it in WhatsApp states
As we mentioned before, this feature is not natively present in WhatsApp, so we will have to make use of the Facebook stories and then place them in the WhatsApp states.
Making stories with music on Facebook is something very simple to do, but if you don't know how to do it, then we must follow these steps:
Open the Facebook application, and click on the option "create story". Then choose a photo or video to use as the background, or click on the options for Text, Music, Boomerang, etc, to create a template.
The story editor will open. Now you can edit your photo, add text, or whatever you like, and then hit the icon "stickers" which is in the upper left corner.
In the menu select "Music", find a song you like and add it. You can also choose from various options for lyrics, colors and length of the song.
Once you have finished editing your "history" you just have to press the share buttonto be published on your Facebook profile.
How to put a WhatsApp status with music
Now that we have our story published on Facebook, the only thing left to do is save it as a video and then upload it to WhatsApp status. To do this we follow these steps:
Go to your story on Facebook and while viewing it, press on the three horizontal points at the top right to open the options.
In the pop-up menu, select the option "Save video"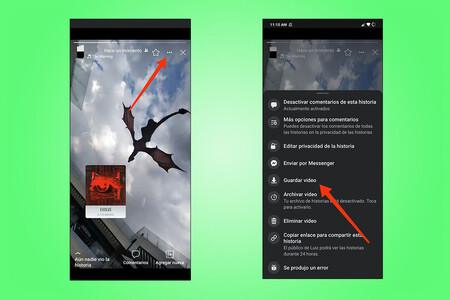 Now in our WhatsApp we go to the section of the "state" and we upload the video that we just saved, you don't need to edit it, but if you like you can also use the WhatsApp tools.
Finally, we will see that when publishing and viewing it, We can now listen to our WhatsApp status with music.
Ready, as you can see this trick is very simple. We just have to clarify that although you can also save your stories on Instagram, these cannot be saved with music, for this reason it is easier to carry out the procedure with Facebook.
Remember that in Xataka Basics Mexicoyou can also find how to view deleted messages, how to turn temporary messages on or offY how to send a long video on whatsapp